CEREC Same Day Dentistry - Saugus, MA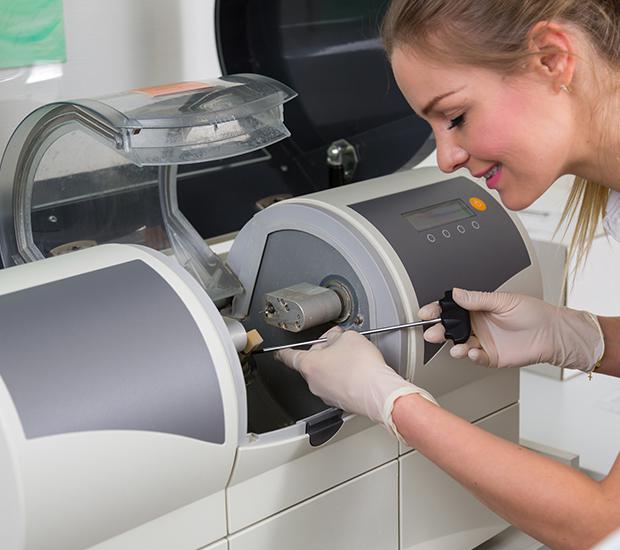 One of the most popular services provided at our Saugus office is our CEREC Same Day Dentistry.  Dr. Singh utilizes advanced CEREC technology to provide crowns, bridges, veneers, and other restorations in just one appointment, saving you time as well as creating a beautiful solution for your smile.  Chairside Economical Restoration of Esthetic Ceramics (CEREC) allows us to restore damaged or decayed teeth in one streamlined office visit. With extensive training and experience, Dr. Singh is widely considered the premier CEREC Dentist in Saugus.
Imagine a same-day smile makeover! Dr. Singh uses CEREC to restore chipped or discolored front teeth with beautiful porcelain crowns and veneers. You can literally walk out the door with a new, bright, healthy smile in just one visit!
Understanding How CEREC Works
CEREC is also known as Chairside Economical Restoration of Esthetic Ceramics, or CEramic REConstruction. It uses Computer Assisted Design and Computer Assisted Manufacturing (CAD/CAM), which has been used in manufacturing for several decades to create precision parts, tools, and even vehicles. Since its introduction to the dental field over two decades ago, this system has become a quick and precise means of producing ceramic veneers, crowns, bridges, and more.
CAD/CAM technology helps CEREC dentists give patients top-quality, durable, and natural-appearing dental restorations. CAD/CAM technology aids in dental restoration design and production and allows dentists to create solutions that are not possible otherwise.

Benefits of CEREC Technology
CEREC technology rivals the lost-wax casting method, which uses wax to make a second mold for the dental restoration piece. The American Dental Association details how the dental CAD/CAM systems use scanners to take measurements and collect all details of the teeth and gums quickly and precisely. Automating production using this data helps simplify what is otherwise a lengthy laboratory process.
The CEREC system makes the restoration process faster, easier, and less expensive. CEREC restoration benefits include the following:
Better fit : CAD/CAM systems produce high-quality restorations. The process eliminates errors as the system relies on the precise digital data that it collects. When compared to CEREC, the laboratory process is more prone to having subjective or human errors.
Better product : The manufacturing process results in a one-unit restoration piece rather than separate pieces. This single-unit process is especially beneficial for bridges and other multi-piece appliances. It also adds to the durability and strength of the finished piece.
Faster process : CEREC software allows dentists to see three-dimensional images created from oral scans. Based on this information, the dentist uses the system to design the restoration piece with the necessary bite adjustments. The CAM unit then creates the appliance using the finalized design.
Learn More About Our CEREC Dentistry in Saugus
Call Saugus Smiles today at (781) 233-0344 to learn more about CEREC same-day dentistry in Saugus, MA, and to make your appointment with our skilled dentist.